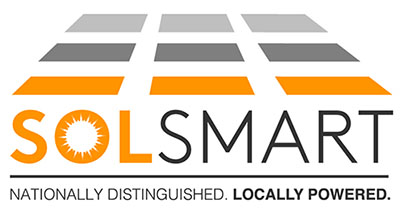 Learn How Your Community Can Be Solar-Ready Through SolSmart
Is your Community Solar-Ready?
Become SolSmart Designated!
Virginia Energy and UVA are pleased to launch a Virginia SolSmart no-cost technical advisor program with support from The Solar Foundation to bring solar-specific resources and technical assistance to localities across Virginia.
Background:
Virginia is preparing for more solar developments across the Commonwealth. While the state has already seen a significant increase in solar development, Governor Northam's Executive Order 43 paired with the Virginia Clean Economy Act and the Solar Freedom Bill generously increases the demand for renewable energy. Solar developments happen on a local level and community response is crucial. SolSmart will help municipalities and counties be solar ready and receive a SolSmart designation.
Wise County achieved the SolSmart Gold Designation for advancing solar energy growth in December 2021
Join over 20 localities across Virginia and over 350 counties and cities nationwide who are addressing barriers to solar energy and fostering the growth of mature local solar markets.
Which Virginia localities are already designated? Learn more here »
We are currently recruiting for the following regions:
Middle Peninsula, Eastern Shore
Southside, Piedmont Region
Southwest VA
Coalfield region
New River Valley
This SolSmart project is a partnership between Virginia Energy, SolSmart, and University of Virginia's Virginia Solar Initiative at the Weldon Cooper Center for Public Service. SolSmart is a national program led by The Solar Foundation and the International City/County Management Association (ICMA). It is funded by the U.S. Department of Energy Solar Energy Technologies Office.

If you are interested in learning more about SolSmart, Request a Consultation.

For questions or to learn more, please contact us »