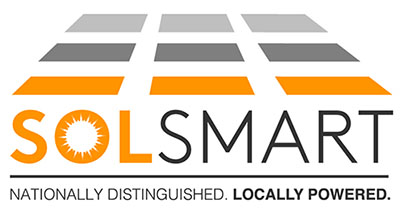 Learn How Your Community Can Be Solar-Ready Through SolSmart
Is your Community Solar-Ready?
Become SolSmart Designated!
Virginia Energy and UVA are pleased to launch a Virginia SolSmart no-cost technical partner program with support from The Solar Foundation to bring solar-specific resources and technical assistance to localities across Virginia.
Background:
Virginia is preparing for more solar developments across the Commonwealth. Solar developments happen on a local level and community response is crucial. SolSmart will help municipalities and counties be solar ready and receive a SolSmart designation.
Wise County achieved the SolSmart Gold Designation for advancing solar energy growth in December 2021

Which Virginia localities are already designated? Learn more here »

This SolSmart project is a partnership between Virginia Energy, SolSmart, and University of Virginia's Virginia Solar Initiative at the Weldon Cooper Center for Public Service. SolSmart is a national program led by The Solar Foundation and the International City/County Management Association (ICMA). It is funded by the U.S. Department of Energy Solar Energy Technologies Office.

If you are interested in learning more about SolSmart, Request a Consultation.

For questions or to learn more, please contact us »