Mineral Mining and the Virginia Transportation Construction Alliance (VTCA) sponsor the annual Virginia Mineral Mine Safety Awards, a very successful program that recognizes companies and mineral miners for outstanding safety achievements in Virginia's mineral mining industry.
Mine company employees reaching 15-, 20-, 25-, 30-, 35-, 40-, and 45-years without a lost time injury milestones, as well as mine sites in two categories: Quarry and Open Pit with 0 to 25,000 employee hours; 25,000 to 50,000 employee hours; 50,000 to 75,000 employee hours; and, 75,000 and above employee hours, are recognized for their achievement.
Our 2022 Safety Award Winners:
Please join us in congratulating these individuals and company award winners for their hard work in keeping our mineral mine industry safe in the Commonwealth!
Individuals:
Individual miners are also recognized for working without lost time accidents for a period of 15 years or more.
Timothy Brian Cliborne, Maintenance and Operations Superintendent, Iluka Old Hickory Mine, 20 yrs without Lost Time Injury
Bradley Johnson, Plant Manager, Luck Stone Fairfax Plant, 25 yrs without Lost Time Injury
Landon Hugues, Shop Mechanic, Luck Stone Greene Plant, 25 yrs without Lost Time Injury
Calvin Lamb, Plant Leadman, Luck Stone Greene Plant, 15 yrs without Lost Time Injury
Tim Smith, Yard/Pit Loader Operator, Luck Stone Leesburg Plant, 15 yrs without Lost Time Injury
Bradley Taylor, Plant Foreman, Luck Stone Leesburg Plant, 20 yrs without Lost Time Injury
Milburn "Ricky" Ricker, Plant Operator, Luck Stone Powhatan 35 yrs without Lost Time Injury
Paul Carter, Plant Operator, Luck Stone Rockville Plant, 25 yrs without Lost Time Injury
Joseph Harris, Plant Leadman, Luck Stone Rockville Plant, 25 yrs without Lost Time Injury
Anthony Gilman, Luck Stone Eastern Regional Operations Manager, 20 yrs without Lost Time Injury
Mark Kelpe, Luck Stone Key Account Manager, 15 yrs without Lost Time Injury
Matthew Olive, Luck Stone Electrical Technician, 15 yrs without Lost Time Injury
Howard W. May, Jr., Foreman, Mundy Stone Company Flatrock Quarry,40 yrs without Lost Time Injury
Edwin Lewis, Plant Operator, Rockydale Appomattox Quarry, 20 yrs without Lost Time Injury
Joseph E. Snyder, Foreman, Staunton Lime, 15 yrs without Lost Time Injury
Randall Wolfrey, Plant Supervisor, Virginia Vermiculite R.E. Sansom Mine & Mill, 30 yrs without Lost Time Injury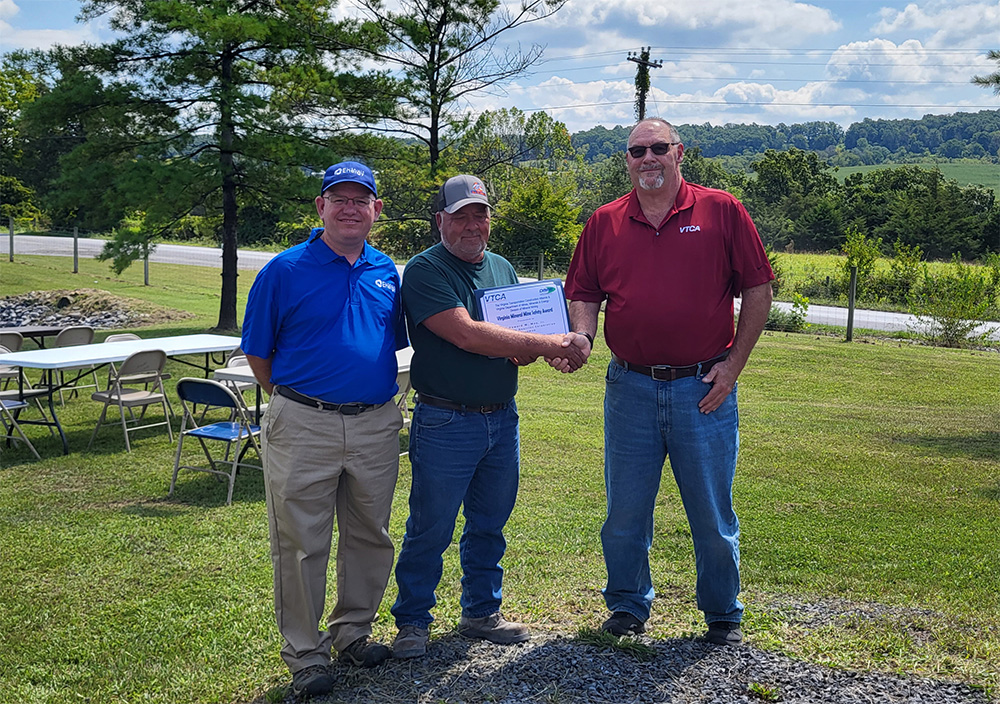 2022 Award Winner Howard May of Rockydale Mundy Stone for 40 years without Lost Time Injury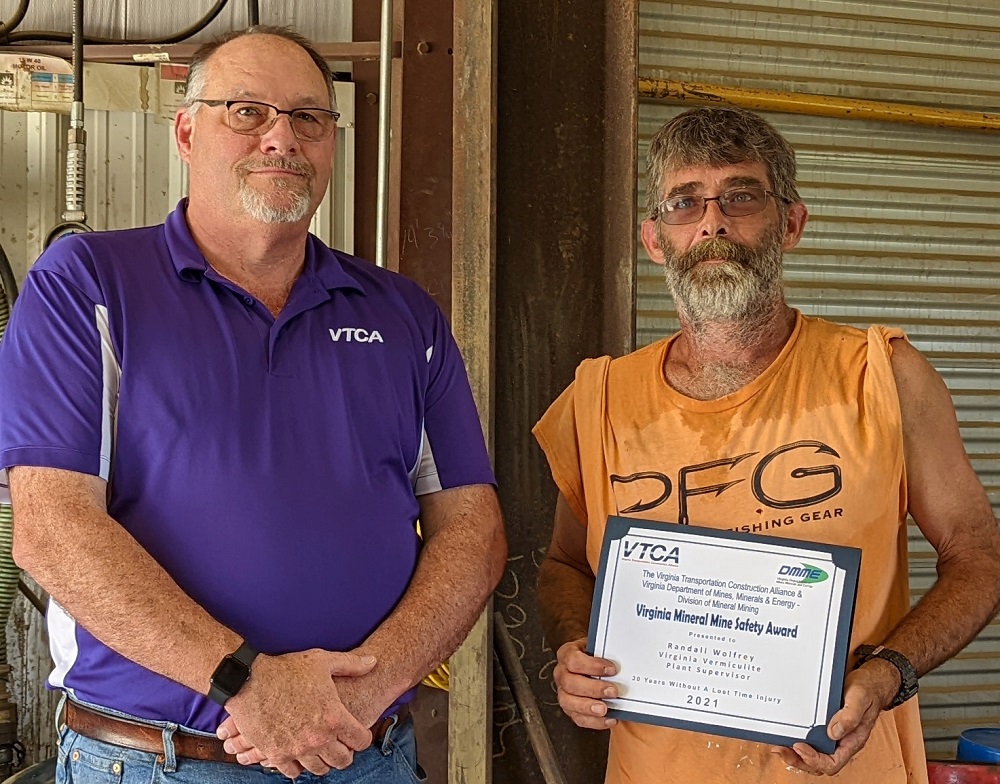 2022 Award Winner Randall Wolfrey of Virginia Vermiculite for 30 years without Lost Time Injury

Quarries:
Appalachian Aggregates LLC. – Bluefield Quarry – 14 employees - 24,634 hours
Martin Marietta Materials, Inc. – Doswell Quarry – 20 employees - 49,683 hours
The Frazier Quarry – North Quarry – 45 employees - 71,817 hours
Vulcan Construction Materials, LLC. – Graham Quarry – 28 employees - 90,831 hours
Open Pit:
Shenandoah Asphalt, Inc. – Shenandoah Stone – two employees – 4,747 hours
D. M. Conner, Inc. - #2 Mine – eight employees – 8,644 hours
Luck Stone Corporation – Caroline Sand & Gravel - 12 employees – 24,359 hours
USC Saltville Brine, LLC. – Saltville Salt Company – 49 employees – 98, 558 hours