Virginia's gas and oil industry reported the production of 7,136 barrels of crude oil in 2022, up about 16.7 percent from the production reported in 2021. The estimated value is $671 thousand.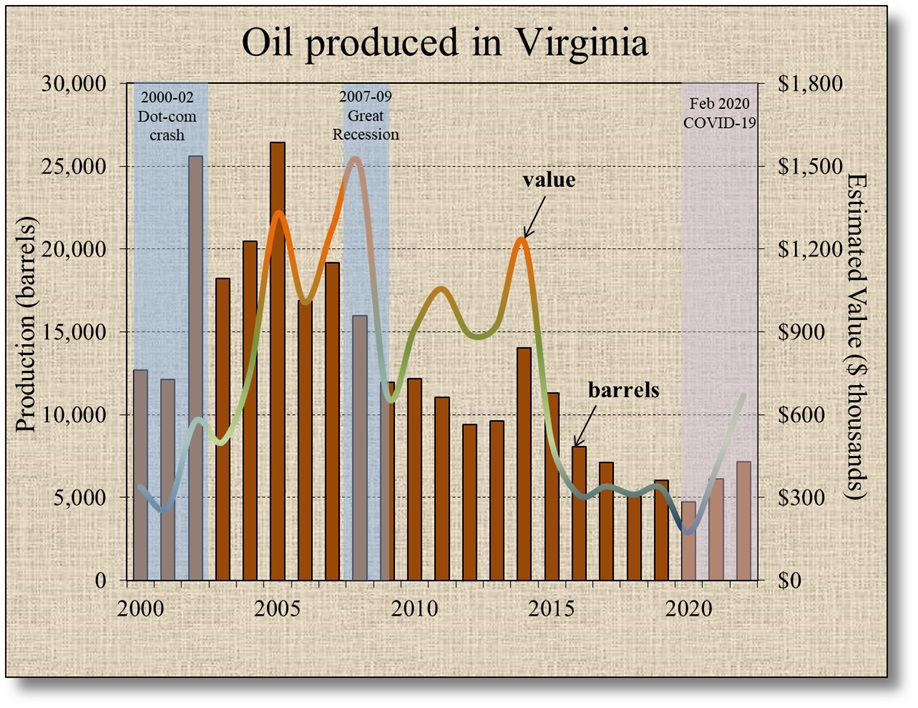 Oil production and value in Virginia
The estimated value is calculated using the average domestic crude oil first purchase price per barrel reported by the U.S. Energy Information Administration (EIA).
Oil is a fossil fuel mixture of hydrocarbons that is recovered in Virginia in two main forms, crude oil and condensate. Crude oil is produced at the wellhead in liquid form at atmospheric pressures and temperatures. Condensate is recovered as a byproduct of natural gas production. The major uses for petroleum products are gasoline, diesel fuel, fuel oil (often used for heating homes), propane, aviation fuel, petrochemical feedstocks, kerosene, lubricants, waxes, and asphalt.
Year of first production in Virginia: 1942
Location of first production: Lee County
Number of wells producing oil in Virginia (including those that also produce gas): 74
Counties in Virginia where oil is currently produced: Lee, Wise
Number of companies: 4
Quantity produced in 2022: 7,136 barrels
Estimated market value: $671 thousand
Total cumulative production: about 987 thousand barrels
Oil In Virginia Fact Sheet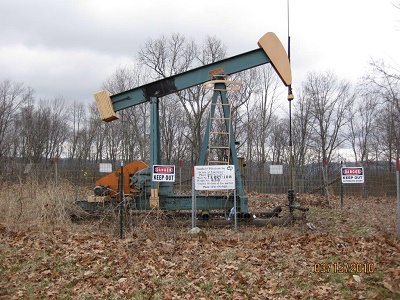 Oil well, Lee County
In the past, crude oil has been produced in Buchanan, Lee, Russell and Wise counties in southwest Virginia. Oil production in Virginia reached its peak level in 1983, with 65,400 barrels produced during that year. Most of the past production in Virginia occurred in the Ben Hur-Fleenortown and Rose Hill fields in Lee County. The oil is produced from several zones within the fractured Middle Ordovician-age Trenton Limestone of the Appalachian Basin. The Trenton Limestone occurs as a structurally folded unit beneath the Cumberland Overthrust Block in the Appalachian Plateaus Province. The gas wells that also produce oil in Lee and Wise counties produce from the Lower Mississippian-age Weir sandstone that is within the Price Formation.
Selected References:
Additional Resources: