Sustainable Development of Mineral and Energy Resources through Comprehensive Planning
In 1996, the General Assembly of the Commonwealth of Virginia amended state statutes governing localities' comprehensive planning to include mineral resources among the key considerations in planning for future growth (Code of Virginia §15.2-2224). Shortly thereafter, Virginia Energy responded with a proactive program to deliver geologic and mineral resources information to over 130 county, municipal, and regional planning authorities to help meet the update schedules of the planning offices that typically review their comprehensive plan documents for needed changes every five years. More»
In recent years, state and local governments have been challenged to ensure that the benefits accrued from mining operations are maximized in a sustainable way, while any negative impacts are mitigated. Through comprehensive planning, local governments work with citizens to ensure an appropriate balance between protecting community values and developing important natural resources. DMME exists to enhance the development and conservation of energy and mineral resources in a safe and environmentally sound manner in order to support a more productive economy in Virginia.
Geologic resources include the raw materials that support community growth and development. While community planning can designate appropriate locations for many industrial business activities, mining operations that supply construction aggregate and crushed stone, architectural stone, energy resources, industrial and other specialty minerals can be located only where geologic reserves are known to exist. Conserving these resources for sustainable economic growth requires that potential sites be identified, adequately characterized, and protected from preemptive uses that might otherwise result in lost economic opportunities.
If information is not shown for the county of interest, please contact us, as there may be preliminary data available. Check back often for new information.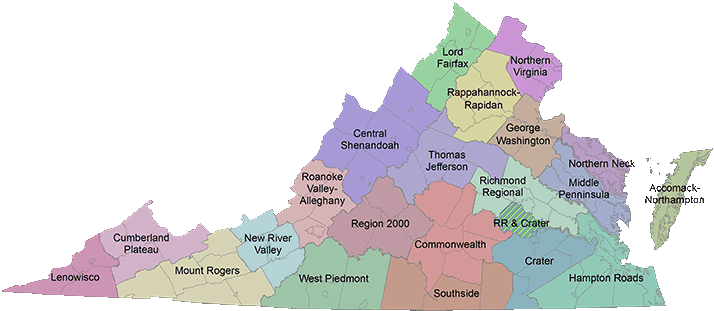 Accomack-Northampton Planning District Commission

Accomack
Northampton
Central Shenandoah Planning District Commission

Augusta
Bath
Highland
Rockbridge
Rockingham

Commonwealth Regional Council

Amelia
Buckingham
Charlotte
Lunenburg
Prince Edward

Crater Planning District Commission

Charles City
Chesterfield
Dinwiddie
Greensville
Prince George
Surry
Sussex
Cumberland Plateau Planning District Commission

Buchanan
Dickenson
Russell
Tazwell
George Washington Regional Commission

Caroline
King George
Spotsylvania
Stafford
Hampton Roads Planning District Commission

Gloucester
Isle of Wight
James City
Southampton
Surry
York
Lenowisco Planning District Commission

Lee
Scott
Wise
Middle Peninsula Planning District Commission

Essex
Gloucester
King and Queen
King William
Mathews
Middlesex
Mount Rogers Planning District Commission

Bland
Carroll
Grayson
Smyth
Washington
Wythe
New River Valley Regional Commission

Floyd
Giles
Montgomery
Pulaski
Northern Neck Planning District Commission

Lancaster
Northumberland
Richmond
Westmoreland
Northern Shenandoah Valley Regional Commission

Clarke
Frederick
Page
Shenandoah
Warren
Northern Virginia Regional Commission

Arlington
Fairfax
Loudoun
Prince William
Rappahannock-Rapidan Regional Commission

Culpeper
Fauquier
Madison
Orange
Rappahannock
Region 2000 Local Government Council

Amherst
Appomattox
Bedford
Campbell
Richmond Regional Planning District Commission

Charles City
Chesterfield
Goochland
Hanover
Henrico
New Kent
Powhatan
Roanoke Valley-Alleghany Regional Commission

Alleghany
Botetourt
Craig
Franklin
Roanoke
Southside Planning District Commission

Mecklenburg
Halifax
Brunswick
Thomas Jefferson Planning District Commission

Albemarle
Fluvanna
Greene
Louisa
Nelson
West Piedmont Planning District Commission

Franklin
Henry
Patrick
Pittsylvania