Abandoned Mine Land
Virginia's Abandoned Mine Land (AML) Program was established in the late 1970's to correct pre-federal Act (1977) coal mine related problems adversely impacting public health, safety, general welfare and the environment. Abandoned mine land related problems include landslides, stream sedimentation, hazardous structures, dangerous highwalls, subsidence, loss of water, acid mine drainage and open mine portals. AML sites eligible for reclamation must have been mined prior to December 15, 1981. There must also be no other individual, firm or organization responsible to reclaim the site.
Virginia Energy's Mined Land Repurposing (MLR) annually applies for a grant from the U.S. Office of Surface Mining (OSM) to reclaim high priority AML sites across the state. Grant funds are used to design reclamation plans, obtain consents for rights of entry, publish public notices in local newspapers to advertise for construction contractors and to ensure the site is reclaimed and the problems abated according to the engineering design. Grant funds come from fees paid by the coal industry on each ton of coal mined.
Widely recognized as one of the best AML programs in the nation, OSM has selected several Virginia AML projects for national awards. Virginia is nationally recognized for its innovative accomplishments in reclaiming abandoned coal mine land.

NOTICE!! - ALL DIVISION OF MINED LAND RECLAMATION CONTRACTORS MUST BE REGISTERED IN eVA
Locations of Abandoned Mines in the Greater Richmond Area
Virginia Energy is presenting these maps in response to Chapter 706 of the Virginia Acts of Assembly (2006). The legislation requires that the seller of any new dwelling in Planning District 15 disclose in writing to the purchaser whether they have knowledge of previous mining on the property, or the presence of abandoned mines, shafts, or pits. These maps depict locations of abandoned mines contained in the publications, databases, and archives of DMME. The mines are shown as symbols plotted on U.S. Geological Survey 7.5-minute quadrangle topographic base maps at a scale of 1:24,000, presented as Portable Document Format (.pdf) files. At this scale, one inch is equal to 2,000 feet.
The larger map below is an index to abandoned mine location maps. Red boxes indicate maps that are currently available. Clicking on a red box will open a link to a .pdf file containing the map associated with that area.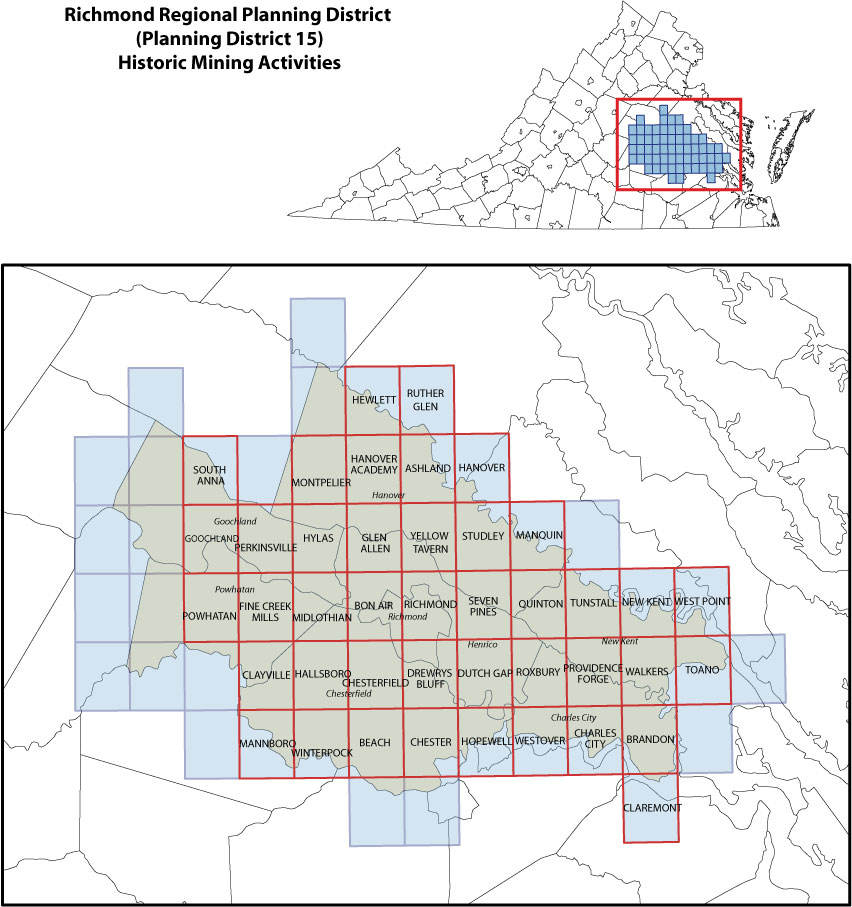 Abandoned Mine Land Project Location Maps
Remining in Virginia
Over 71,000 acres of land in Virginia have been affected by coal mining. It is estimated that it would take approximately 55 years at the present rate of funding and reclamation construction to reclaim the remaining Priority 1 and Priority 2 Abandoned Mine Land (AML) sites. In addition, it would cost more than $313 million to reclaim the identified Priority 3 sites. One way to accelerate reclamation of AML is through remining.
Virginia Energy's Mined Land Repurposing (MLR), The Nature Conservancy, and the U.S. Office of Surface Mining combined resources to develop proposals for incentives that will promote economically viable, environmentally beneficial remining operations that reclaim AML sites. Initial meetings led to the development of a Remining Ad Hoc Work Group that includes representatives from industry, other governmental agencies, special interest groups, and citizens of Southwest Virginia. Our Ad Hoc Group has identified existing incentives and continues to propose new ones.
Existing Remining Incentives:
Virginia's Pollution Abatement Regulations – These regulations were the result of a 1987 amendment to the Federal Clean Water Act. Alternate effluent discharge limits are allowed in areas with preexisting effluent problems. Operators document effluent conditions prior to remining. Upon completion of the remining operation, the operator would need to demonstrate that the effluent from this site is "as-good-as" the premining effluent.
Guidelines for Forestry Husbandry Practices – New forestry husbandry based upon independent research have been approved. These practices are specifically geared for the forestry post mining land use and should help create highly-productive forest in a timely manner so that the mine operator, landowners, and communities can benefit.
Remining Permit Enhancement – MLR has implemented procedures to facilitate remining permit preparation and review.
MLR Remining Review Team – This is a team that works with the company up-front during preparation of a permit application. The team consists of an engineer, geologist, pollution control specialist, agronomist, client assistance officer, area inspector, and coordinator. Input and guidance are provided on an as needed basis.
Mapping and Surveying Support – MLR will provide remining permit applicants with state-of-the-art assistance through digital mapping services and the use of GPS (Global Positioning System) capabilities to locate abandoned mine land features, acid mine drainage seeps, boreholes, and other features.
Proposed Remining Incentives:
AML No-Cost Agreement – This is a mechanism that can be used to achieve reclamation of abandoned mine lands located outside normal permit boundaries. This agreement would be between the Department and an eligible person for the purpose of reclaiming un-reclaimed abandoned mine lands and which does not involve the expenditure of Commonwealth funds. The reclamation only areas would not have to be permitted. A minimum performance bond would be required. The person would not have to consider these areas in the draining calculations for their mining permit.
AML Enhancement Rule – This would entail the use of AML funds to contract with an operator to reclaim, through remining, an area of remnant coal that ordinarily could not be mined. There is a possibility that these projects would not require a coal surface mining permit. This rule would remove the required 50% government funding before any coal could be removed from the project and sold. The removal and sale of any coal from the site could then be used to help finance the project.
Experimental Practice Program – To allow spoil from an active Title V permit to be placed on an adjacent AML area (abandoned unstable highwalls, eroding outslopes, acid/toxic material, barren benches, depressions, etc.)
Contact Us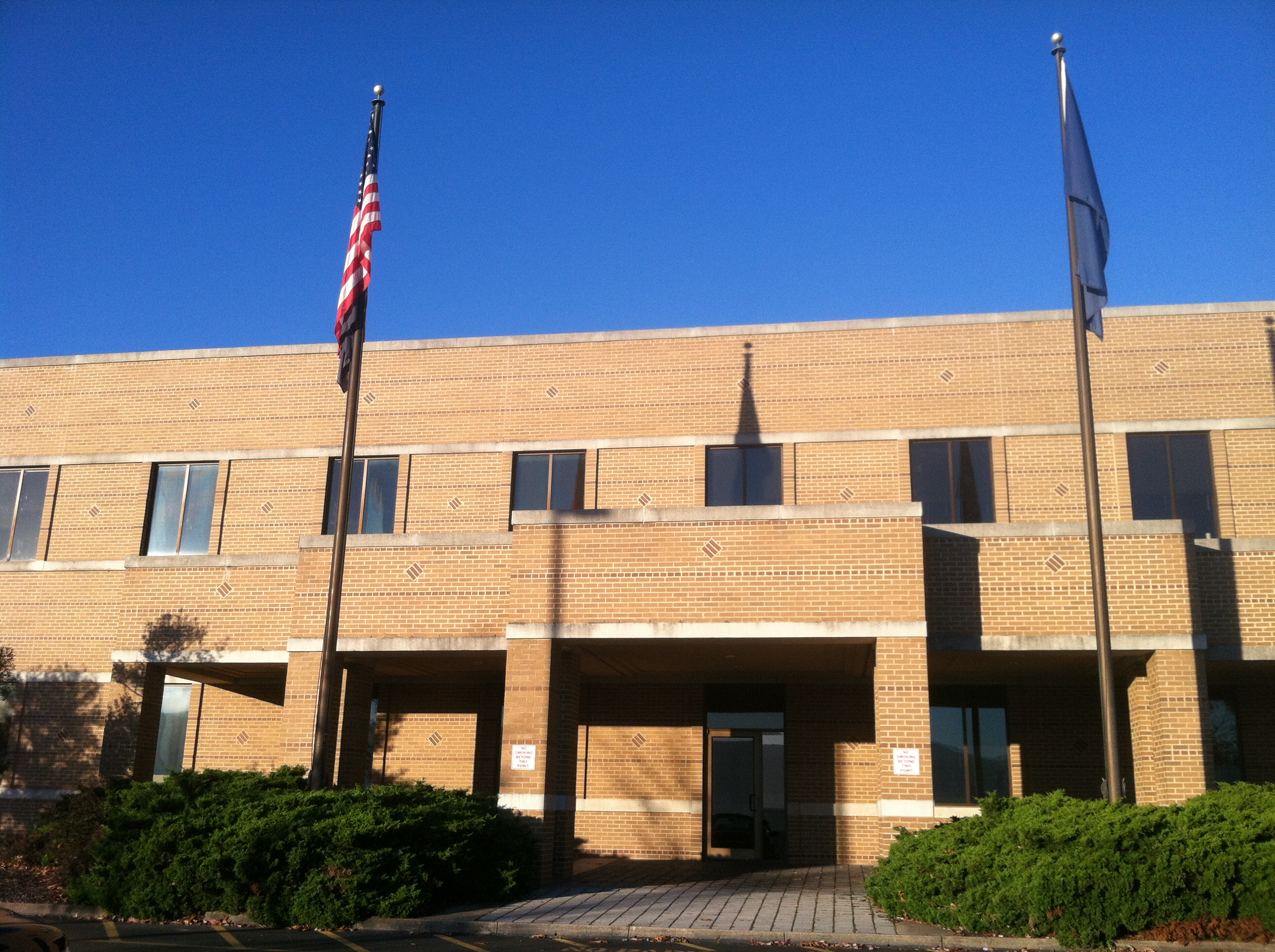 Mined Land Repurposing
Lesa C. Baker, AML Project Coordinator

Virginia Energy
Mined Land Repurposing
3405 Mountain Empire Road
Big Stone Gap, VA 24219

Phone: (276) 523-8100
E-mail: CoalMineSafetyInfo@energy.virginia.gov (Coal Mine Safety)
RepurposingInfo@energy.virginia.gov (Mined Land Repurposing)