Mineral Mining and the VTCA jointly sponsor an annual mined land reclamation awards program. Mine operations that have performed exemplary, or innovative reclamation of lands previously disturbed for mining are nominated by their respective mine inspectors for awards in quarry and non-quarry categories. Operations that win the overall state award go on to compete with mining operations from other states for national awards. Virginia mining operations have been awarded numerous national reclamation awards. Our operations are considered to be leaders in returning mined land to productive uses.
Mineral Mining maintains an inspection staff and conducts safety and reclamation inspections on mineral mining sites. Reclamation inspections are conducted at least twice annually to ensure compliance with state permitting and reclamation laws and regulations.
The duties and responsibilities of our mine inspectors are not limited to inspection and enforcement activities. Additional responsibilities include conducting safety, reclamation, and certification training classes for industry personnel, supervising the reclamation of mine sites where the performance bond has been forfeited, providing technical assistance to small mine operators, and assisting with orphaned land reclamation projects. Mine inspectors provide permitting and licensing services ranging from pre-application conferences to processing new permits and renewals to bond release following final reclamation. Mine inspectors respond to all complaints concerning mining activities, and investigate potential illegal mine sites.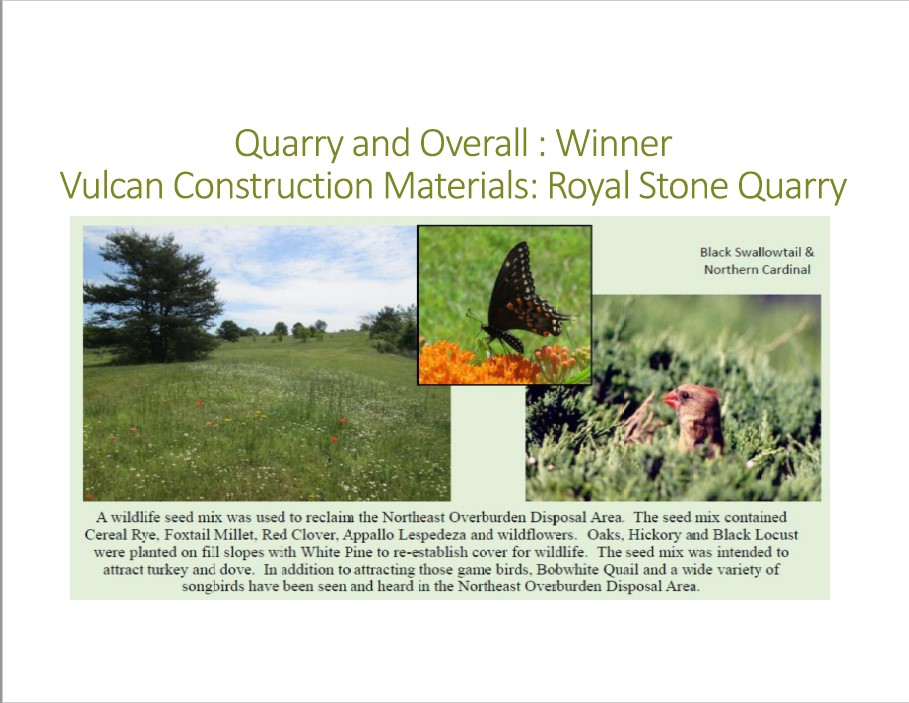 2020 Reclamation Award Winner: Vulcan


Mineral Mining and the VTCA jointly sponsor an annual mined land reclamation awards program. Mine operations that have performed exemplary, or innovative reclamation of lands previously disturbed for mining are nominated by their respective mine inspectors for awards in quarry and non-quarry categories. Operations that win the overall state award go on to compete with mining operations from other states for national awards. Virginia mining operations have been awarded numerous national reclamation awards. Our operations are considered to be leaders in returning mined land to productive uses.

Please join us in congratulating these award winners for their hard work and for their contributions to keeping our environment healthy and beautiful in the Commonwealth!

View Reclamation Award Letter here »