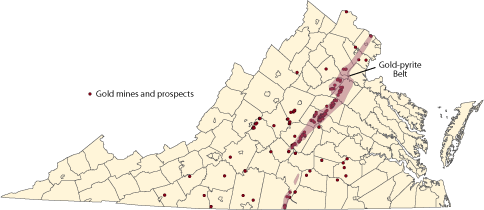 Gold mining in the Commonwealth of Virginia was a significant activity in the 1800s, with lode and placer operations concentrated in the gold-pyrite belt of the Piedmont Province. Mining of gold in Virginia decreased precipitously when the California Gold Rush began, with almost no production by the 1930s. Learn more about gold in Virginia here»
For the past few years, a Canadian prospecting company has been conducting exploratory core sampling in Buckingham County, looking for gold. A permit for this activity is not required and it is unclear if commercially viable deposits will be found. Due to this recent interest in gold mining operations, HB2213 directs the Secretary of Natural Resources, the Secretary of Health and Human Resources, and the Secretary of Commerce and Trade to establish a work group to study the mining of gold in the Commonwealth. View HB2213 here » The bill requires that the work group shall include the Virginia Council on Environmental Justice and appropriate stakeholders, including experts in mining, hydrology, toxicology, and other fields; environmental organizations; representatives of potentially affected communities in localities with significant deposits of gold; and residents of Native American communities in such localities.
The bill provides that the work group shall evaluate the impacts of gold mining on public health, safety, and welfare; evaluate whether existing air and water quality regulations are sufficient to protect air and water quality from the mining and processing of gold, including evaluation of the impacts of different leaching and tailings management techniques on downstream communities; evaluate whether existing bonding, reclamation, closure, and long-term monitoring of sites for such mining or processing are sufficient; and report its findings to the General Assembly by December 1, 2022.
The work group will consist of two components:
a committee selected by the National Academies of Sciences, Engineering, and Medicine (NASEM) to evaluate the technical aspects of impacts of gold mining in Virginia and
a committee formed by the Department of Energy, the Department of Environmental Quality, and the Virginia Department of Health ("state agency committee") that will focus on local equity and environmental justice issues, and environmental and human health concerns of the local community.
The NASEM committee's final product will be an independent, peer-reviewed consensus report. This report will be delivered to the state agency committee, who will write a companion document that responds to, expands upon, or discusses specific topics in the NASEM consensus report. The NASEM consensus report and the document written by the state agency committee will comprise the "report" to which the bill refers.

If you would like to be considered to serve on the state agency committee, please click here to complete the interest form. If you have any questions, please contact Michael Skiffington, Director of Policy and Planning, at 804.370.1833 or mike.skiffington@energy.virginia.gov.

The first meeting will be virtual and will be held on December 15. Registration and other information can be found here.