As part of the Underground Mine Map Initiative, a cooperative agreement program of the United States Department of the Interior, Office of Surface Mining Reclamation and Enforcement (OSMRE), Virginia Energy is participating in a project aimed at improving the completeness and accuracy of existing collections of underground mine maps and georeferenced underground mine workings.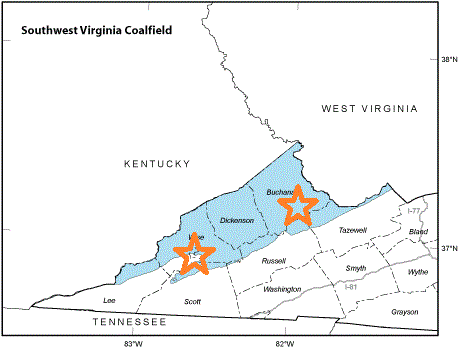 In recent years, Virginia Energy has been scanning and cataloging archived paper copies of underground coal mine maps in the Southwest Virginia Coalfield.  This project will complete the scanning of known mine maps and demonstrate an effective methodology to enhance the vertical (elevation) control of mined-out coal beds.
Key objectives of Virginia's mine mapping program are:
To develop as complete a collection as possible of all known maps of coal mines in the Southwest Virginia Coalfield
To make all mine maps available in digital format through a searchable database
To develop a spatially accurate GIS dataset representing active and abandoned coal mines, gas wells, and mined and unmined portions of Virginia's coal seams.
Much progress has been made toward all three objectives. This proposal will complete the scanning of the last known unscanned mine maps available for the Southwest Virginia Coalfield and add them to the Virginia Mine Mapping System database, and the on-line interactive mapping center .
The project also aims to initiate the conversion of Virginia Energy's two-dimensional (2D) GIS dataset to a three-dimensional (3D) dataset depicting the true spatial relationship of underground mines, gas wells, and coal geology in the subsurface.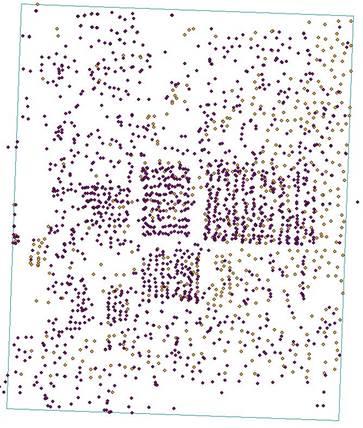 Map showing the locations of natural gas wells in the Keen
Mountain 7.5-minute quadrangle study area.
Using legacy data from past projects and existing databases, Virginia Energy is constructing 3D models in two main study areas that will depict mined coalbeds, the known underground coal workings, and subsurface geologic information recorded in oil and gas well logs. The two current study areas include the Keen Mountain 7.5-minute quadrangle area, and portions of the Norton and Wise 7.5-minute quadrangles. The primary computer software tools used for modeling include ESRI's ArcScene, a 3D modeling program, and ArcMap, a 2D geographic information system (GIS) program.
Virginia Energy's Gas and Oil Program provides natural gas well logs that contain key stratigraphic information and measured elevations of the coal seams as well as the vertical extent of the well itself. Oil and gas wells will be represented as 3D features in the completed model. The points at which those wells encounter the tops and bottoms of each coal seam will be used to create smoothed surfaces, and those surfaces will be extruded into packages visually representing each coal seam. Digitized mine maps also contain elevation information, which will allow them to be extruded and represented in the same manner as the coal seams.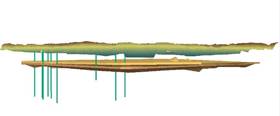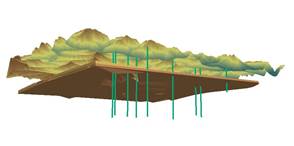 Preliminary view of ArcScene's 3D modeling capabilities for the Keen Mountain study area

It is anticipated that the 3D stratigraphic modeling technology developed as part of this OSM-Virginia Energy partnership for these two study areas will be applicable and expanded to other critical regions in Virginia's coalfield.  The technology is expected to be transferable to other coal mining states as well, with similar concerns for elevation control in abandoned underground coal mines. 

Completing the scanned map collection and addition of accurate elevation control to existing 2D position information will greatly enhance the utility of mine map datasets for mine worker safety, public safety, environmental protection, coal resource management, and economic development.

This project is supported by grant funds from the United States Department of Interior, Office of Surface Mining Reclamation and Enforcement.