Kyanite is a polymorphic aluminum-silicate mineral that has the same chemical formula as the minerals andalusite and sillimanite, Al2SiO5. The atomic structures of these minerals differ slightly as do other physical properties. Mullite is a closely related mineral with the chemical formula Al6Si2O13 that occurs rarely in nature, but can be synthesized from kyanite and other alumina- and silica-enriched minerals using a thermal treatment process referred to as calcination. Collectively, these minerals along with topaz ((Al2SiO4 (F,OH)2) and dumortierite (Al7(BO3)(SiO4)3O3) belong to the sillimanite minerals group. Kyanite is valued as an industrial raw material for the manufacture of heat and acid refractories used in ceramics, precision castings, refractory additives and fillers, and other applications in the ferrous and non-ferrous foundry industries. Due to the qualities of hardness and durability, exceptional specimens of the sillimanite minerals group are often marketed in the gemstone and jewelry industry.
Kyanite and the other sillimanite minerals are common constituents in metamorphic rocks, often making up a percent or two of the mineral composition of peraluminous gneisses and schists in the Piedmont geologic province of Virginia. Economic deposits are found in a variety of geologic settings that include massive segregations in metamorphosed aluminous sediments, as stratiform replacements within foliated and nonfoliated quartzose rocks often associated with meta-volcanic strata, mineralized quartz veins and pegmatites, and in residual soils and placers.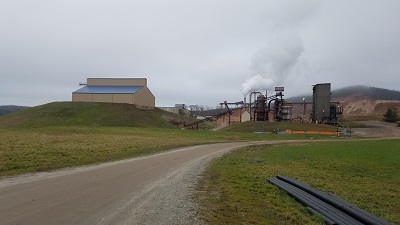 Kyanite Mining, Buckingham County
Kyanite Mining Corporation is a privately owned company based in Dillwyn, Virginia and is the world's largest producer of industrial kyanite and calcined kyanite (mullite). The company mines kyanite-bearing quartzites associated with felsic and mafic volcanic rocks of the Chopawamsic Formation in the central Virginia Piedmont region. Of the vast resources located at Willis Mountain, kyanite generally makes up 10-40 percent of the host quartzite rock. Current surface mining operations and processing facilities are located in eastern Buckingham County near the town of Dillwyn. The company reports annual production capacity to be about 150,000 tons of commercial grade kyanite concentrates (>57 percent Al2O3, <0.75 percent Fe2O3), and 30,000 tons of calcined kyanite. The company markets a range of milled kyanite and mullite products that are shipped by truck and rail to a wide variety of domestic and international customers.
Year of first production in Virginia: 1920s
County locations with commercial mining (past and present): Prince Edward, Buckingham
Quantity produced in 2022: 74.7 thousand tons
Estimated value of produced minerals in 2022: $34.4 million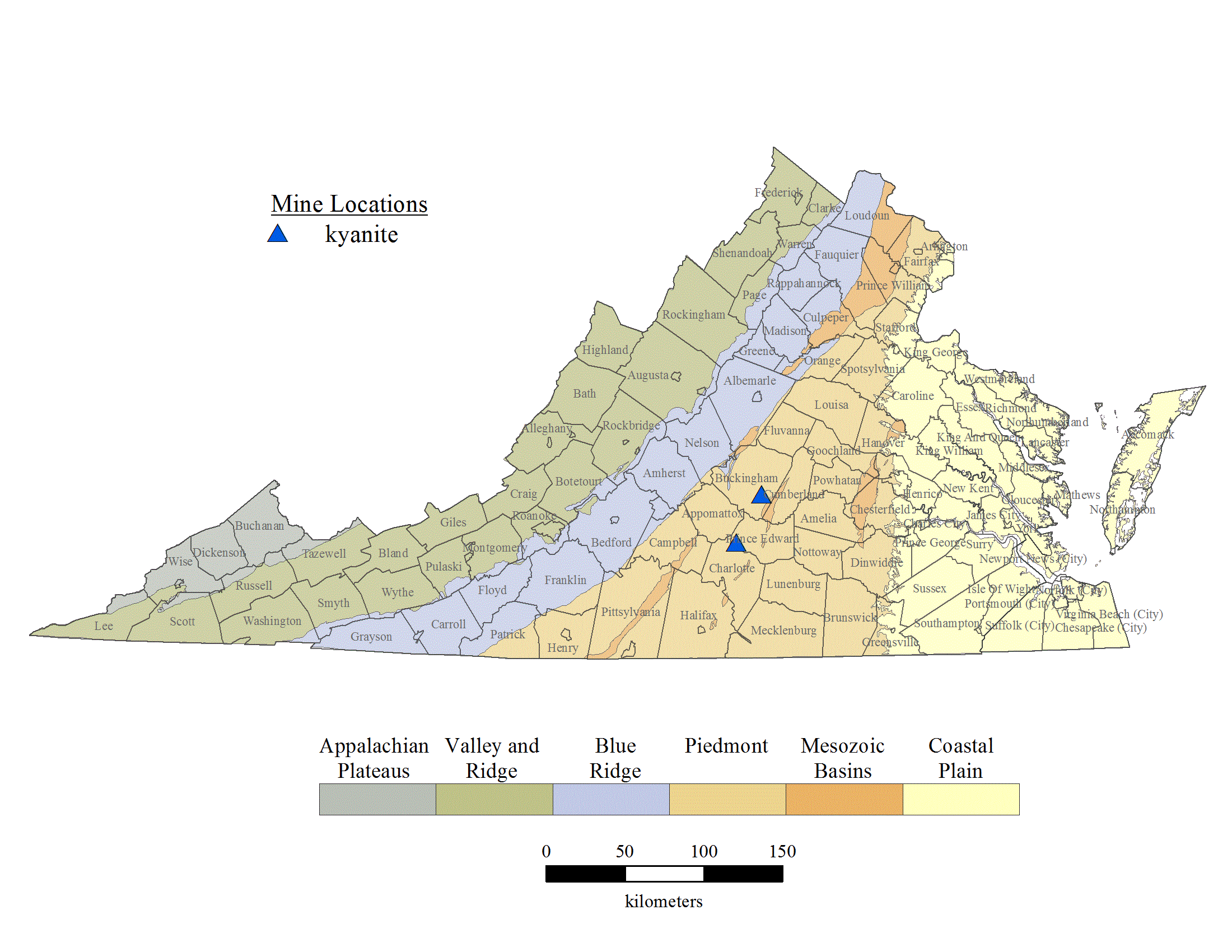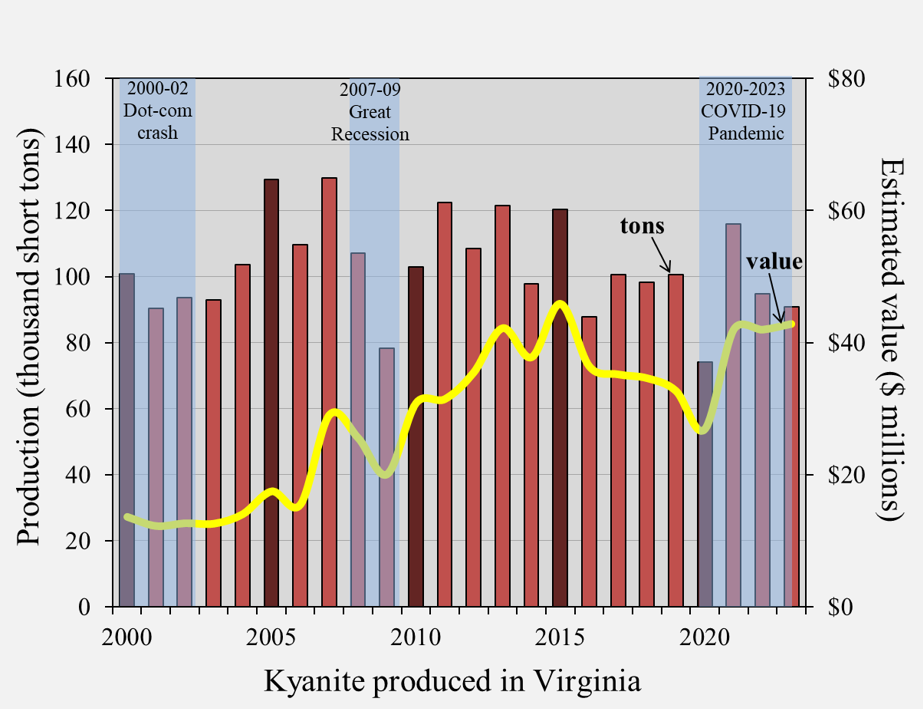 Annual production and estimated value1
1 Estimates of annual mineral value are calculated using tonnages reported to Virginia Energy and commodity sales prices reported in numerous published and unpublished sources. The prices may include national or global industry averages. The calculated annual values do not necessarily reflect the actual sales prices received by mine operators in Virginia.
Additional information on global resources and production of kyanite and other sillimanite minerals may be found in a recent article in Mining Engineering, a monthly periodical published by the Society for Mining, Metallurgy and Exploration, Inc., (SME).
Selected References:
Conley, J. F., and Marr, J. D., 1980, Evidence for the correlation of the kyanite quartzites of Willis and Woods mountains with the Arvonia Formation: Virginia Division of Mineral Resources Publication 27, p. 1-11.
Dixon, G. B., Jr., 1980, Kyanite mining in Virginia: Virginia Division of Mineral Resources, Virginia Minerals, v. 26, n. 1, p. 12.
Virginia Department of Energy, 2021, Annual production reports submitted by mine operators, Division of Mineral Mining.
Johnson, S. S., 1967, Virginia's contribution to the kyanite – mullite industry: Virginia Division of Mineral Resources, Virginia Minerals, v. 13, n. 1, p. 1-7.
Jonas, A. I., and Watkins, J. H., 1932, Kyanite in Virginia, (Including) Geology of the kyanite belt of Virginia: Virginia Division of Mineral Resources Bulletin 38, 52 p.
Lassetter, W.L., 2022, Kyanite, Andalusite, and Sillimanite, Industrial Minerals 2021 Review: Mining Engineering, Vol 74, no. 7, p. 58-61.   
Marr, J. D., 1990, Geology of the Kyanite Deposits at Willis Mountain, Virginia, in Proceedings 26th Forum on the Geology of Industrial Minerals: Virginia Division of Mineral Resources Publication 119, p. 129-134.
U.S. Geological Survey, 2020, Kyanite and Related Minerals Statistics and Information