COVIA processing plant and fresh water impoundment

Industrial sand refers to sand with a high percentage of quartz, thus having a fairly pure SiO2 content. Many industrial uses for sand require that it be pure, inert, and resistant to high temperatures. High purity industrial sand is used in glass making, ceramics, filtration, hydraulic fracturing, and in chemicals.
Year of first production in Virginia: 1978
County locations with commercial mining: Frederick
Quantity produced in 2022: 702 thousand tons
Estimated value of produced minerals in 2022: $36.9 million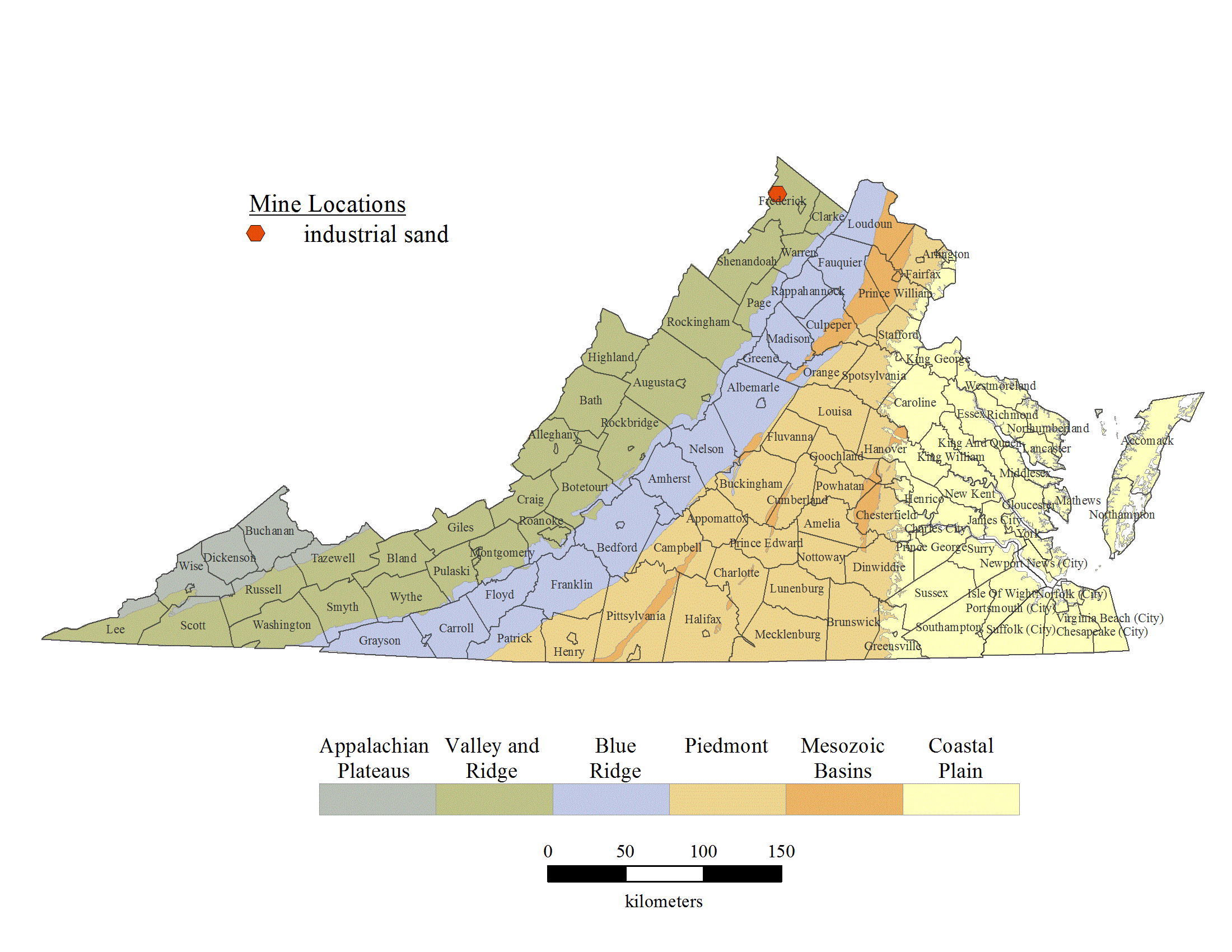 Industrial (silica) sand is presently mined at a single location in Virginia. COVIA conducts surface mining and mineral processing at facilities located near Gore in Frederick County. The material is mined from the Devonian-age Ridgeley Sandstone. In 2020, the total production reduced the company reported total production of about 510 thousand short tons, down about 8 percent from the tonnage reported in 2019. In 2021, the total production recovered to about 539 thousand short tons and then increased to about 702 thousand short tons in 2022.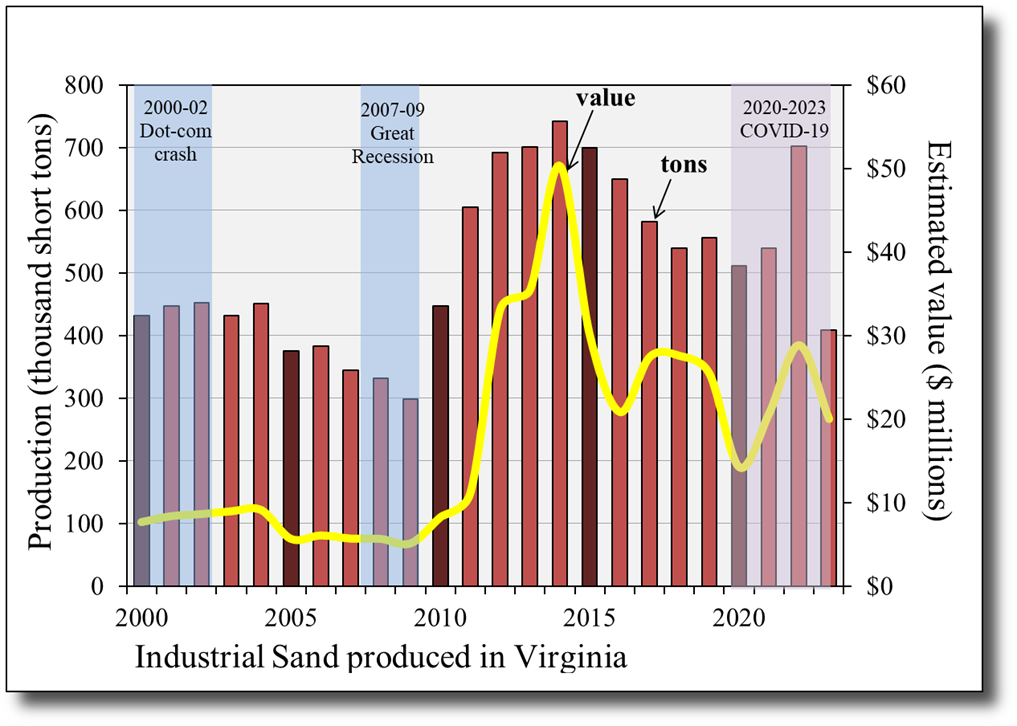 Annual production and estimated value1


1 Estimates of annual mineral value are calculated using tonnages reported to Virginia Energy and commodity sales prices reported in numerous published and unpublished sources. The prices may include national or global industry averages. The calculated annual values do not necessarily reflect the actual sales prices received by mine operators in Virginia.
Selected References:
Virginia Division of Mineral Resources, 1993, Geologic Map of Virginia: Virginia Division of Mineral Resources, scale 1:500,000.
Harris, W.B., 1972, High-silica resources of Clarke, Frederick, Page, Rockingham, Shenandoah, and Warren counties, Virginia: Division of Mineral Resources Mineral Resources Report 11, 42 p. https://www.energy.virginia.gov/commerce/ProductDetails.aspx?productID=2311
Sweet, P.C., 1981, High-silica resources in Augusta, Bath, Highland, and Rockbridge counties, Virginia: Division of Mineral Resources Publication 32, 22 p. https://www.energy.virginia.gov/commerce/ProductDetails.aspx?productID=2418
Sweet, P.C., and Wilkes, G.P., 1986, High-silica resources in Alleghany, Botetourt, Craig, and Roanoke counties, Virginia: Division of Mineral Resources Publication 67, 22 p. https://www.energy.virginia.gov/commerce/ProductDetails.aspx?productID=2377
Sweet, P.C., 1986, Virginia's industrial silica resources: Division of Mineral Resources Virginia Minerals, Vol 32, No 1, February 1986, p. 1-9.
https://www.energy.virginia.gov/commercedocs/VAMIN_VOL32_NO01.PDF