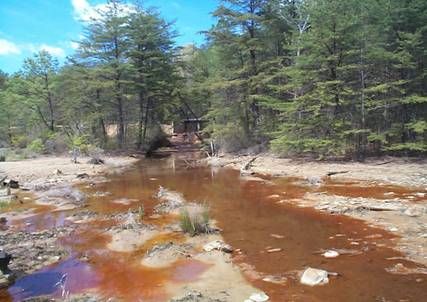 Contrary Creek, Louisa County, Va
The chemical makeup of groundwater, which often emerges as base flow in flowing streams, is strongly influenced by the bedrock, soil, and sediment through which the water passes. The composition of this host material and the water's residence time, flow rate, and flow path all play important roles. In some instances, elevated levels of metals can adversely affect water quality, while some soil and bedrock types cause acid drainage.
In most soils, natural occurrences of metals at concentrations considered toxic to humans, animals, or plants are unusual. More often, elevated levels of metal are the result of contamination from sources such as residential, municipal, and industrial wastes, pesticides, fossil fuel combustion, or mining and smelting activities. However, there are rare, naturally occurring soils enriched in some metals — arsenic, beryllium, cadmium, chromium, lead, mercury, and zinc — that do pose a risk to human health. These naturally elevated concentrations are generally the result of the weathering of metal-rich parent bedrock material, and are further affected by soil moisture, depth, texture, and age. These metals can impact human and animal health through a wide variety of direct and indirect exposure pathways, but usually through drinking water or ingestion of plants grown in high-metal soil. Such soils also cause plant fertility problems, resulting in an economic impact to landowners.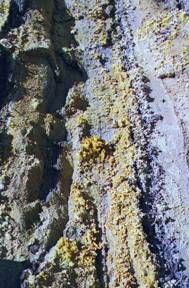 Melanterite, Contrary Creek, Louisa County, Va
Some of Virginia's soil and bedrock types — organic-rich clay units in the Coastal Plain, pyritic black shales in the Valley and Ridge, and phyllites and slates in the Piedmont — create acid rock drainage when disturbed, killing vegetation and degrading stream quality by lowering the pH of the water. In some urban areas, acidity may be sufficient to accelerate the weathering of concrete curbs, gutters, and culverts. Watersheds in which significant historic mining activities have occurred often contain polluted runoff that can affect both surface and ground water resources through lowered pH, excessive sediment, and contamination from mercury and other metals.
Researchers at Virginia Tech have completed a study on the potential for acid rock drainage associated with highway construction, but there are few studies of the natural occurrence of potentially hazardous metals in Virginia. Background levels for metals in soil are currently derived from two nationwide studies and the data is highly general. Most soil testing in Virginia is performed for site-specific purposes, usually related to agriculture or environmental assessment, and then reported directly to the property owner. In North Carolina, state survey geologists studying the occurrence of arsenic in well water drawn from metavolcanic bedrock units in the Piedmont province have found levels that may pose a health risk in some areas. Similar bedrock units are also found in Virginia, but no investigations of arsenic levels in well water from these rocks have been conducted to date.
Selected References:
Gustavson, N., Bolviken, B., Smith, D. B., and Serverson, R. C., 2001, Geochemical landscapes of the conterminous United States — New map presentations for 22 elements, U.S. Geological Survey Professional Paper 1648, 38 p.

Nelms, David L., Harlow, George E., Jr., Plummer, L. Niel, and Busenberg, Eurybiades, 2003, Aquifer susceptibility in Virginia, 1998-2000 USGS Water-Resources Investigations Report 03-4278, 67 p.

Orndorff, Zenah, W., 2001, Evaluation of sulfidic materials in Virginia highway corridors; Ph.D. Dissertation, Virginia Tech, 175 p.

Smith, David B., Cannon, William F., Woodruff, Laurel G., Garrett, Robert G., Klassen, Rodney, Kilburn, James E., Horton, John D., King, Harley D., Goldhaber, Martin B., and Morrison, Jean M., 2005, Major- and trace-element concentrations in soils from two continental-scale transects of the United States and Canada; USGS Open-File Report 2005–1253, 20 p.

U.S. Geological Survey, 2003, A proposal for upgrading the national-scale geochemical database for the United states; USGS Fact Sheet FS-015-03, 2 p.

Virginia Department of Environmental Quality 2012 Water Quality Assessment Integrated Report

Virginia Department of Health, 1999, Virginia Source Water Assessment Program, 20 p., U.S. Geological Survey Open File Report 97-289.